Monthly Archives: June 2014
Link.
Stay Dangerous, My Friends.
As us techies say in the field of computers, the protocols underlying the internet were designed to detect censorship and to route around it.
Free thinking people have a similar constitution. We detect problematic public policy imposed by the greedy, power mad collectivists and we route around it.
Though Zero and his Odramabots (aka Democrats, aka 'progressives', aka communists, aka all-around jackasses — hey, don't look at me, they picked their own mascot) have succeeded in forcing socialized medicine down our throats (policy-wise, at least for the time being), they will not corral us into their bureaucratic nightmare without a fight.
Yeah, the VA is such a success story for socialized medicine.  Too bad dozens of dead veterans is harshing that mellow, now isn't it.
I will admit that the passage of the (un)Affordable Care Act is having one (but only one) positive outcome. And that is the destruction of the status quo and the rise of something better. Even the notoriously left-wing Washington Post has noticed.  Note the clueless critiques from many of the commenters.  Sean Parnell of The Self-Pay Patient blog has some good debunking of the promoters of the bureaucracy here.
I told at least a few government supremacists on Facebook and elsewhere that we would destroy this intolerable act by any means necessary. Defund, Dismantle, Destroy, Defy, and hopefully, eventually Repeal. Right now, we are in the Destroy phase. More power to these medical cost sharing programs, and any others that I have missed. The unintended consequence of the rise of these options, it is hoped, is that it will financially bankrupt the morally bankrupt system of the ACA.
One day when I eventually leave my current job, I will likely sign up and tell my new employer that if he likes his benefit package, he can keep it.
I'll keep my own money, at least for the most part, and pay for the coverage I want. I won't being paying hiked up premiums (I am unmarried, with no kids, and have a higher than average income, so I ain't gettin' any subsidies), contributing to your subsidies, or paying any penalties.
So pay for your own abortions, sex-changes, and birth control, you little twit.
Stay Dangerous, My Friends.
(Image courtesy of DevCom.)
Object lesson: Never, NEVER, take off your eye protection while shooting, especially in an indoor range. I didn't, but if for some stupid reason I had, it's only about two inches above my eyes.

I could have SO much fun with this.

Anyone got a bandaid with a picture of a bullet hole on it?

I shot myself in the head!

Take a hacksaw to a bullet and glue the rear half to a bandaid so it looks like it's half inside the hole in my head. "NO, Don't pull it out! It's holding my brains in!"

Fun aside, be safe out there, folks. This hurt like hell. Blood all over the place, as with any head injury. Nasty welt and it's still a little sore (happened around 7:00pm last night). Thought it might turn black and blue, today, but it hasn't.  Still swollen, though.  Thankfully far enough from the eyes that I didn't get a black eye. No stitches required, just a butterfly bandage. It was a ricochet off the back stop of the range.  This was a .38 special round.  Glad I wasn't shooting .357 Magnum out of my Ruger Security Six at the time.

Really had crappy luck last night. To top it off, after dinner I headed home and not more than half a mile from the restaurant, got rear ended. Actually, it was a three car collision. Lucky for me, I was the car in front of the stack and got jostled a bit but no injuries and nothing but scuff marks on the rear bumper of my BMW. Middle car (a subcompact) not so lucky getting squished at both ends, and the passenger needed a ride in an ambulance to the hospital. No apparent blood or broken bones, but she was crying about abdominal pain. Woman who hit the guy who hit me was driving a big-ass 1980 Buick. Hood, front grill, and probably radiator, fan and fan belt damage. She was the one cited, of course. Good, because she let slip that she was talking on the phone when it happened. Lived here forever, but didn't know where the hell she was and she wasn't even far from home. Hmmph. People.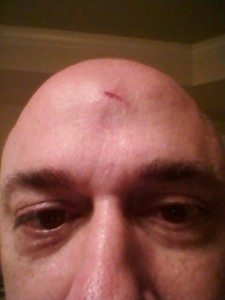 Stay Dangerous, My Friends.  (To others, not yourself!)