Object lesson: Never, NEVER, take off your eye protection while shooting, especially in an indoor range. I didn't, but if for some stupid reason I had, it's only about two inches above my eyes.

I could have SO much fun with this.

Anyone got a bandaid with a picture of a bullet hole on it?

I shot myself in the head!

Take a hacksaw to a bullet and glue the rear half to a bandaid so it looks like it's half inside the hole in my head. "NO, Don't pull it out! It's holding my brains in!"

Fun aside, be safe out there, folks. This hurt like hell. Blood all over the place, as with any head injury. Nasty welt and it's still a little sore (happened around 7:00pm last night). Thought it might turn black and blue, today, but it hasn't.  Still swollen, though.  Thankfully far enough from the eyes that I didn't get a black eye. No stitches required, just a butterfly bandage. It was a ricochet off the back stop of the range.  This was a .38 special round.  Glad I wasn't shooting .357 Magnum out of my Ruger Security Six at the time.

Really had crappy luck last night. To top it off, after dinner I headed home and not more than half a mile from the restaurant, got rear ended. Actually, it was a three car collision. Lucky for me, I was the car in front of the stack and got jostled a bit but no injuries and nothing but scuff marks on the rear bumper of my BMW. Middle car (a subcompact) not so lucky getting squished at both ends, and the passenger needed a ride in an ambulance to the hospital. No apparent blood or broken bones, but she was crying about abdominal pain. Woman who hit the guy who hit me was driving a big-ass 1980 Buick. Hood, front grill, and probably radiator, fan and fan belt damage. She was the one cited, of course. Good, because she let slip that she was talking on the phone when it happened. Lived here forever, but didn't know where the hell she was and she wasn't even far from home. Hmmph. People.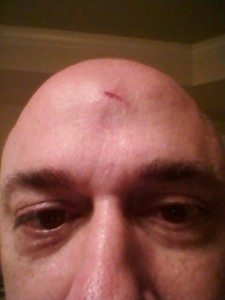 Stay Dangerous, My Friends.  (To others, not yourself!)